Monday, February 15, 2010
Actor alum returns to Meadow Brook Theatre for musical production
By Katie Land, news editor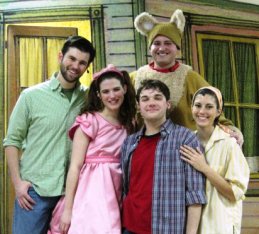 OU alum Chris Rozanski appears as the dog Mudge in "Henry and Mudge" this February.
For as long as he can remember, Chris Rozanski has always wanted to be on the Broadway. With the help of a Bachelor of Fine Arts Degree from Oakland University, he is well on his way.
Majoring in Musical Theatre Performance, Rozanski graduated last May and immediately set off for New York. It didn't take long for him to land his first professional role in the TheatreWorksUSA's musical production of the children's classic story, "Henry and Mudge."
"New York is the only place for me," Rozanski said. "From a very young age, my plan was to go to college for Musical Theatre and then move to the city as soon as I could. My dream in life is to be a performer on Broadway and New York is the place to make that happen."
Beginning in January, the six-month-tour includes a stop at Meadow Brook Theatre with shows at 10:30 a.m. and 1 p.m. on Saturday, Feb. 27. As one of the title characters, Mudge, Rozanski both sings and dances. He credits some of his self-assurance to several OU professors, who he worked with very closely in performances throughout school.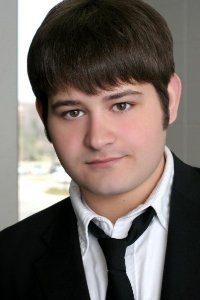 Rozanski majored in Musical Theatre Performance at OU's MTD.
"Each of my professors made their marks on me as an individual," Rozanski said. "Oakland made me a well-rounded theatre professional. When I say that, I mean that we got a chance to work on not only the performing aspect of theatre but also the technical aspects."
While at Oakland, Rozanski performed in many shows. His favorite was the musical "Falsettos," directed by Fred Love, assistant professor of theatre in the Department of Music, Theatre and Dance. Rozanski played Marvin, a man who left his wife and son for another man.
"The role was intense and a good acting exercise," he said. "It made me feel confident that I could sing extensively and not become vocally fatigued, something that is very important to a performer who wants to be on Broadway."
An OU-attended Musical Theatre Senior Showcase in New York introduced Rozanski to many industry professionals, including a representative from TheatreWorksUSA. The agent kept his head shot and called him in to audition. He performed three songs and was hired that night.
The tour has opened many doors for him, and Rozanski was able to join the Actor's Equity union, which will help him land future auditions.
Once the tour is over, Rozanski plans to return to New York to find new roles. Grateful for his "Henry and Mudge" job, he looks forward to living the actor's life. "Perhaps this particular job will lead to another, but until then I will just keep trying and going on auditions."
Rozanski performs under his stage name, "Chris Persichetti," that he chose in honor of his grandparents. For more information about Oakland's theatre programs, visit
oakland.edu/mtd
.
OU theatre alumni Chris Rozanski performs at Meadow Brook Theatre as a professional actor with TheatreWorksUSA's musical production, "Henry and Mudge."

Created by Katherine Land - Deleted (land@oakland.edu) on Monday, February 15, 2010
Modified by Katherine Land - Deleted (land@oakland.edu) on Monday, February 15, 2010
Article Start Date: Monday, February 15, 2010