Monday, January 25, 2010
Concerto winners featured in Pontiac Oakland Symphony Young Artists concert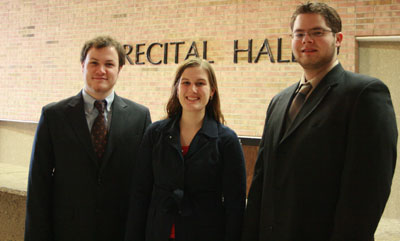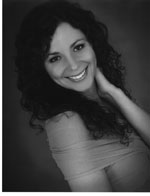 Alex Carter, Bethany Kruger Moses, Natalie Christina Cochran and Schuyler Campbell will be featured artists in the Pontiac Oakland Symphony's 13th Annual David Daniels Young Artists Concert, held in Varner Recital Hall at 3 p.m. on Sunday, January 31, 2010.
The four are this year's winners of the Oakland University Concerto Competition.
Alex Carter is a senior trumpet performance major. He performs with the Oakland University Wind Symphony, Oakland University Jazz Band and the Pontiac Oakland Symphony. Alex also works for Blue Lake Fine Arts Camp during the summer for their International Exchange Program as principal trumpet in the International Youth Symphony Orchestra. He is a graduate of Clawson High School.
Bethany Kruger Moses is a senior violin performance major. She performs with the Pontiac Oakland Symphony and is vice president of the Cornerstone Baptist Ministry student organization at Oakland University. During her OU career, Bethany has received the Talented Scholar's Award and Department of Music, Theatre and Dance scholarship. A graduate of Lake Orion Baptist School, she has been a violin instructor at Orion Music Studio for the past three years.
Soprano Natalie Christina Cochran is a post-graduate student at Oakland University, pursuing a Master's degree in vocal performance. She received her Bachelor of Music degree from the University of Michigan.
Schuyler Campbell, a senior piano performance major, began studying piano at age 15 and is also taking lessons in world percussion. He traveled to Ghana in the summer of 2007 to study traditional Ghanian music. A graduate of Shrine High School, he won the Rosamond Haeberle Piano Award from the Tuesday Musicale of Greater Pontiac in 2008 and was asked to return this past December as a guest soloist on a concert program.
Tickets are $26 general admission, $21 for seniors and $16 for students. To purchase tickets on-line with no service fee, or for more information, visit
oakland.edu/mtd
Alex Carter, Bethany Kruger Moses, Natalie Christina Cochran and Schuyler Campbell will be featured artists in the Pontiac Oakland Symphony's 13th Annual David Daniels Young Artists Concert, held in Varner Recital Hall on Sunday, January 31, 2010.

Created by Joni Hubred-Golden (hubredgo@oakland.edu) on Monday, January 25, 2010
Modified by Carly Uhrig (uhrig@oakland.edu) on Tuesday, February 15, 2011
Article Start Date: Monday, January 25, 2010