By Katie Land, news editor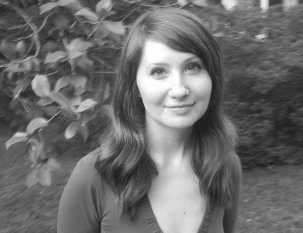 OU alumna Molly Brodak won the 2009 Iowa Poetry Prize for her book, "A Little Middle of the Night."
Considered the nation's most prestigious award for poetry, the 2009 Iowa Poetry Prize came home with Oakland University alumna Molly Brodak. Awarded annually for a book length collection of original poems written in English, the prize is open to both new and established poets, making for an intense competition.
Brodak's collection, "A Little Middle of the Night," will be published through the Iowa University Press in spring 2010.
"Winning the Iowa Poetry Prize is like winning the lottery of poetry. I'm still in a state of disbelief," Brodak said. "Some of my very favorite books have won this prize, and one of my very favorite poets, Mary Ruefle, was the judge who picked my manuscript this year, which to me is just unfathomable."
This national accomplishment has come just a few years after completing her bachelor's degree in 2005. Brodak attended a handful of colleges before settling into Oakland's English program. It meant a lot to see that the level of expectations for the faculty at Oakland was high, Brodak said.
While she has since gone on to earn her Master's of Fine Arts from West Virginia University and to find a teaching position at Augusta State University in Georgia, Brodak carries her Oakland experiences with her.
"My experience at OU was absolutely formative for my success," she said. "First and foremost, working with Professor Ed Haworth Hoeppner changed my life. I took a poetry class with him, after only having just decided to start seriously writing poetry, and he encouraged me and took me very seriously."
Brodak's work has appeared in the Colorado Review, FIELD, Ninth Letter, the Journal, the Northwest Review, the Laurel Review, the New Orleans Review, Hayden's Ferry Review, and elsewhere. Her chapbook Instructions for a Painting was chosen by Reginald Shepherd for the 2007 Green Tower Press Midwest Chapbook Series.
"As a college student, you want so much to be treated fairly, like an adult. Professor Hoeppner never talked down to me, even when I didn't know what I was talking about. In turn, I rose to the level of his high expectations. I keep this in mind as I teach my students now."
Almost all the material in her new book came from work created as a graduate student. Just two weeks before leaving for school, she was diagnosed with a brain tumor. It was a strange time, Brodak said. Through medication and surgery, the tumor was eventually removed and Brodak healed.
This experience formed a source of inspiration, and the book is built into a loose arc of sickness and recovery, and what meaning can be found in fate that can seem so senseless, she said. "In the end, I believe redemption is found in art. So, the last section of the book has a lot of poems about art, even some specific artists who I love, like Durer."
While she did not plan the poems as part of a full book, Brodak agonized over organizing her work into a cohesive unit, a step of writing that she considers crucial.
Ultimately, Brodak hopes to return to Michigan and find a creative writing position closer to her family's Rochester home. Her book, "A Little Middle of the Night," will be available for purchase through amazon.com.
For more information about Oakland's English programs, visit
oakland.edu/English
.
OU alumna Molly Brodak won the 2009 Iowa Poetry Prize, considered the nation's most prestigious annual award for poetry.

Created by Katherine Land - Deleted (land@oakland.edu) on Monday, December 21, 2009
Modified by Katherine Land - Deleted (land@oakland.edu) on Monday, December 21, 2009
Article Start Date: Monday, December 21, 2009