By Katie Land, news editor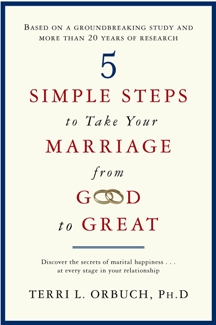 Orbuch's first book for a popular audience offers relationship advice.
Marriage expert and therapist Terri Orbuch brings her relationship insights to Oakland University with a presentation and signing of her book, "5 Simple Steps to Take Your Marriage from Good to Great," at the Oakland Center's Fireside Lounge from noon to 1 p.m. on Tuesday, Dec. 1.
For more than twenty years, Orbuch has followed nearly four hundred married couples as part of her landmark National Institutes of Health-funded study, "Early Years of Marriage." Her goal was to target and identify the behaviors that keep happy couples thriving and the factors that tear them apart.
In her first commercial book, Orbuch reveals the truths she learned during that research and explains how it just takes simple, targeted actions to create significant and positive changes in a relationship, with instant results.
"My main message is that great relationships don't just happen nor are they the result of long hours of tedious hard work," Orbuch said. "It is really just small changes in behavior and attitude that can create happiness and transform your relationship almost instantly. The simple steps that are explained in my book, to take your relationship from good to great, are based on scientific research."
The Oakland professor has taught sociology courses in social psychology, interpersonal relationships and the sociology of human sexuality since 1998. She has written four other books for the academic world, such as "Thrice Told Tales: Married Couples Tell Their Stories."
Like many people, she was interested in what keeps couples together and happy, and what breaks them apart. Starting with a sample of 373 couples who all got married in 1986, Orbuch has compiled her data into an accessible format that anyone can benefit from.
"The most surprising finding to me, is that you do need to sweat the small stuff in your relationship," Orbuch explained. "Most of our adult lives, we have heard the opposite. But to maintain a happy relationship, you need to pay attention to the small stuff, the daily obstacles and the bumps in the road."
Orbuch's book offers research-based information about relationships, specific changes that can improve a romantic relationship, the tools and skills to transform a good relationship to great and a discussion of how men and women evaluate their relationships differently.
"My research confirms that deaths, major illnesses or tragedies are not the greatest causes of marital strife and struggle," she continued. "Instead, in times of great hardship, couples tend to lean on each other. When great stress is coming from outside the marriage, most spouses turn inward for relief, love, and support."
Written to appeal to a wide range of people, the book is for just about everyone. "Anyone who wants to take their relationship to the next level can benefit from this book. We all deserve to be happy in our relationships," she said.
Copies of the book will be available for purchase in Oakland's Barnes & Noble Bookstore and at the book signing.
The event is sponsored by OU's student Sociology Club. For more information about Oakland's sociology and anthropology programs, visit the
Web site
.
Marriage expert Terri Orbuch offers relationship insights in her new book and presentation at the Oakland Center's Fireside Lounge from noon to 1 p.m. on Tuesday, Dec. 1.

Created by Katherine Land - Deleted (land@oakland.edu) on Monday, November 23, 2009
Modified by Katherine Land - Deleted (land@oakland.edu) on Tuesday, November 24, 2009
Article Start Date: Monday, November 23, 2009