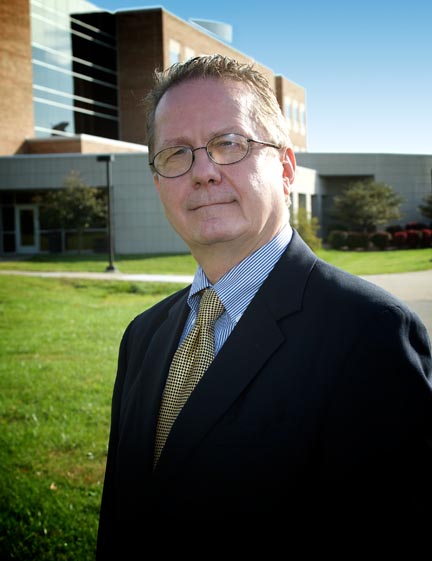 Dennis Janowski

By Kathy Pomaville Pate

Earning a bachelor's degree in three-and-a-half years is practically unheard of – unless you're Dennis Janowski (BA Economics '72).
"The economy was in a recession in the early 1970s, much like it is today." says Janowski. "I knew the competition for employment would be greatest in the spring, when most students would be graduating. I thought I could get a jumpstart on the job market by earning my degree in December."
His strategy paid off. Janowski secured a position with Detroit Bank and Trust Co. — which later became Comerica – and he's been there ever since. He is currently senior vice president, deputy manager of the foreign exchange and commodity derivatives groups, and manager of North American foreign exchange risk.
"OU provided an enjoyable, rewarding journey to a successful career," says Janowski. "It was a demanding journey, too." He particularly remembers the undergraduate dissertation requirement.
The grueling, semester-long independent study required in-depth research on a particular topic. Using cutting-edge technology of the '70s, Janowski accessed the university's lease line to an off-site mega computer to glean information. The semester closed with a presentation to a handful of faculty, who collectively graded him.
"It's not the School of Business Administration way for faculty to give blank stares during a student presentation," says Janowski. "They would encourage and display approval, or they'd let you know if they were disappointed. It was all part of their objective to mentor students."
No need for Janowski to worry about faculty feedback. He earned an A and ultimately graduated Summa Cum Laude. He repeated the honor when he earned an MA in Management/Finance from Central Michigan University in 1980.
Janowski recognized the value of OU's high standards while he was an undergraduate student. Nearly 40 years later he acknowledges the university's same commitment to quality. That means a lot, considering he has three vantage points – as a potential employer, OU guest lecturer, and parent of a recent OU graduate.
"The university clearly maintains a demand for excellence from both faculty and students," says Janowski. "The result is an effective approach to educating and turning out graduates who are employable."
Specifically, Janowski says OU does a great job providing practical, technical skills for a graduate to move quickly into a career. He is equally impressed by the university's emphasis on what he calls arts and letters. "Cultural awareness, as well as communication, presentation and writing skills are critical for a successful career, regardless of your field of study."
Janowski says he gained more than just an education during his time at OU. He gained life-long friendships that he still nurtures today.
Every several years, students who lived in Fitzgerald House during the early '70s gather to reminisce about "the good 'ole days.'"
"People come from Arizona, North Carolina, Pennsylvania and places in between," says Janowski. "It's fun to relive the experiences we shared." Unfortunately, it may also be a reminder of his one regret.
"I wish I would have stretched my education at OU into four years, rather than worrying about the economy," he says. "I missed out on a semester of college life that I'll never get back."
Earning a bachelor's degree in three-and-a-half years is practically unheard of – unless you're Dennis Janowski (BA Economics '72).

"The economy was in a recession in the early 1970s, much like it is today." says Janowski. "I knew the competition for employment would be greatest in the spring, when most students would be graduating. I thought I could get a jumpstart on the job market by earning my degree in December."

His strategy paid off. Janowski secured a position with Detroit Bank and Trust Co. — which later became Comerica – and he's been there ever since. He is currently senior vice president, deputy manager of the foreign exchange and commodity derivatives groups, and manager of North American foreign exchange risk.


Created by Linda Bowers (bowers2@oakland.edu) on Wednesday, October 14, 2009
Modified by Linda Bowers (bowers2@oakland.edu) on Monday, November 2, 2009
Article Start Date: Wednesday, October 14, 2009