By Katie Land, news editor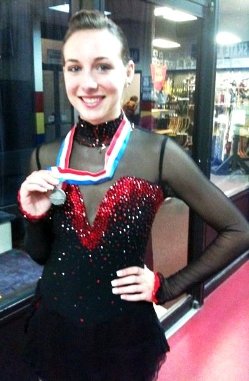 OU student and figure skater Amanda Jagow will compete for a place in the Olympic Trials.
Oakland University freshman Amanda Jagow has big dreams on her mind. The champion figure skater is preparing to compete in the 2010 Midwestern Sectional Figure Skating Championships in Wichita, Kansas, from Nov. 17-22, 2009.
Traditionally, the top four skaters at the championships move on to the national competition. But this is an Olympic year, and the top four skaters will earn a place to compete at the Olympic Trials.
"I like to work on new things," Jagow said. "I always want to improve. My dream is to do the best I can at sectionals. I have always dreamed of being at the highest level of competition."
At just 18 years old, Jagow has already been skating for about 14 years and competing for more than 10. Originally she wanted to be a hockey player, but her natural skating ability encouraged her parents to find a private teacher early on, and Jagow never looked back.
"My mom said that if she ever had to drag me to the rink, we would be all done with skating," she said. "But I always wanted to be there and she has never had to drag me to the rink."
At the Midwestern Sectionals, Jagow will compete in the long program, which is set to a tango and runs about four minutes. It consists of six jumps, three spins, a spiral sequence and footwork. She also will compete in the short program, which is set to an instrumental piece that runs three minutes long and includes three jumps, three spins, a spiral sequence and footwork.
"I'm always nervous before I skate, and I always do the best I can do. I just strive to be the best that I can. At this level, I am definitely more nervous," she said.
The competitive skater maintains a demanding schedule of practice six days a week, for three hours a day, at the Onyx Skating Academy in Rochester. She is up at 7 a.m. every morning to work on homework and prepare to fit a full day of classes in.
Admittedly, it is not an easy pace to maintain. "It is tough to balance," she said. "But my professors understand what I am trying to accomplish and are always very helpful if I get behind. It's especially rough when I miss school because I am out of town for a competition, but luckily my parents are there to help if I'm struggling. It just takes some sacrifices and good decision making to keep up with schoolwork and tests."
Another source of support can be found with her coaches, the mother and daughter team of Vickey and Lindsey Webber. Jagow's original skating coach was Vickey's mother, Shirley Bolyea. The family's three generations have been close to Jagow since she was a child, at a time when Lindsey was skating competitively herself.
Once Jagow has hung up her skates, the secondary education major plans to teach high school math someday. But for now, Olympic dreams beckon.
Jagow has reached a level of competition that she has worked for her whole life, and holds herself to a high standard. "I expect to skate my best, to skate clean, and to do my job on the ice," she said.
OU freshman and champion figure skater Amanda Jagow prepares to compete in the 2010 Midwestern Sectional Figure Skating Championships to earn a place at the Olympic Trials.

Created by Katherine Land - Deleted (land@oakland.edu) on Wednesday, November 11, 2009
Modified by Katherine Land - Deleted (land@oakland.edu) on Wednesday, November 11, 2009
Article Start Date: Wednesday, November 11, 2009