Friday, October 30, 2009
MTD's Dance Program receives coveted national accreditation
By Katie Land, news editor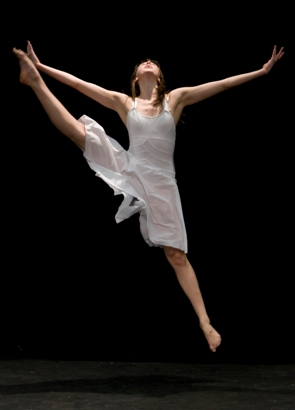 Student Kathryn Hetrick performs in Oakland University's Dance Program.
Oakland University's Dance Program takes center stage as it receives full membership and accreditation from the National Association of Schools of Dance (NASD).
Until this year, Oakland had been considered an associate member. Now the bachelor's program joins the elite ranks offered to less than 100 dance programs across the country.
"This recognition for OU is fantastic," said Greg Patterson, director of the Dance Program. "To this date there are only approximately seventy-four university dance programs in the nation that have been accredited by the NASD. For our community, this places OU's dance program among the leading programs in Michigan."
A work in progress, this recognition is the result of years of work by Patterson, dance professor Laurie Eisenhower; Music, Theatre and Dance Department Chair Jackie Wiggins; special instructor Deb Siegel and many more.
The accrediting process is extensive and grueling, Patterson said. The standards of the NASD are strongly respected in the nation, so to achieve full membership automatically speaks to the strength and integrity of the dance program, he continued.
"Attending a dance program that is fully accredited with NASD reassures students that they will receive high professional training that is a necessary step towards becoming a professional dancer," Patterson said.
As part of the accreditation process, the operations of Oakland's dance programs were closely observed. Reviewers attended all classes and rehearsals and conducted interviews with the university president, provost, dean of the College of Arts & Sciences, chair of the department, dance program director, faculty and even students. Officials also reviewed the filing system and program curriculum.
"Having this accreditation speaks volumes to many parents who are concerned that their children receive the best education possible," Patterson said. "The more seasoned, young dancers that are seeking a great program look for a school that has been accredited. They are interested in programs with high standards and requirements in order to learn the most and be as successful as possible when developing their career. Having our accreditation may sway a few more dancers our way."
Established in 1981, the National Association of Schools of Dance was created to develop a closer relationship among schools and programs of dance and to examine and improve practices and professional standards in dance education and training.
For more information about Oakland's dance programs, visit the
Web site
and
oakland.edu/mtd
.
Oakland University's Dance Program takes center stage as it receives full membership and accreditation from the National Association of Schools of Dance (NASD).

Created by Katherine Land - Deleted (land@oakland.edu) on Friday, October 30, 2009
Modified by Katherine Land - Deleted (land@oakland.edu) on Friday, October 30, 2009
Article Start Date: Friday, October 30, 2009