Thursday, October 29, 2009
OU rolls out new environmentally friendly vehicles on campus
By Katie Land, news editor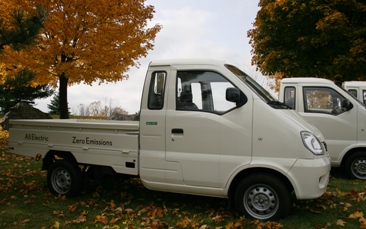 Three new green vehicles join OU's campus. The trucks emit zero emissions and have a capacity of more than 1,000 pounds.
As part of a continual effort to operate on a cost-efficient and environmentally responsible scale, Oakland University has welcomed new green vehicles to campus.
Facilities Management now has three trucks that emit zero emissions and have a payload capacity of more than 1,000 pounds, making them both functional and environmentally friendly, according to Jon Barth, manager of OU's Custodial and Grounds Department.
"Facilities Management continually looks at ways to go green with cost-effective, sustainable initiatives," Barth said. "The custodial department, for example, is currently transitioning to a 'cleaning for health' philosophy by switching to environmentally friendly and effective green cleaning chemicals, equipment and procedures."
The Miles ZX40ST electric trucks were purchased from North Central Zenn in Ohio over the summer at a cost of approximately $14,000 each.
Facilities personnel hope to save as much as $2,500 annually on the cost of gas and maintenance for each vehicle. The trucks are able to charge from a standard 110v outlet and boast regenerative breaking and a battery life of 25,000 miles.
An objective of both facilities and the university is to find and use products and equipment that are more sustainable, cost efficient and green, said Terry Stollsteimer, associate vice president for facilities management.
There will be an evaluation of the vehicle use during winter and summer to determine if the efforts are as practical and as beneficial as anticipated, Stollsteimer continued.
Other vehicles used by the facilities team are an assortment of gas-powered pickup trucks and vans built by GM, Chrysler and Ford.
The electric trucks are street legal and can reach a speed of 50 mph, a performance enhancement from the standard 25 mph. One vehicle each will be located at Facilities Management, Central Heating and Building and Grounds.
For more information about Facilities Management, visit the
Web site
.
As part of a continual effort to operate on a cost-efficient and environmentally responsible scale, Oakland University has welcomed new green vehicles to campus.

Created by Katherine Land - Deleted (land@oakland.edu) on Thursday, October 29, 2009
Modified by Katherine Land - Deleted (land@oakland.edu) on Thursday, October 29, 2009
Article Start Date: Thursday, October 29, 2009