Thursday, October 8, 2009
Varner Theatre Season brings diverse productions to the stage
By Katie Land, news editor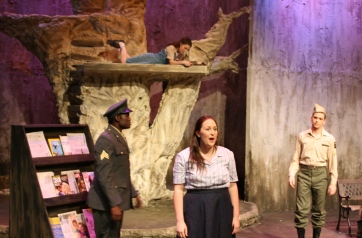 Students Domonique Evans, Lauren Wainwright (in tree), Alexandra McCaw and Grant Drager perform in "Violet."
A new era of drama begins this week with the opening of the 2009-10 Varner Theatre Season. This year's lineup offers a variety of genres and subjects including musical, comedy and classics, as well as stories for mature audiences, stories for young audiences and stories for everyone.
An emphasis is placed on choosing diverse productions to help generate broad experiences for the student participants. Productions are chosen with the current student body in mind, according to Karen Sheridan, theater professor. For example, there a large class dancers currently, so a musical with dancing will be performed.
"It is most exciting for the faculty to go to a show and to see how far students have come from rehearsal to performance," Sheridan said. "It is sometimes surprising to see a student blossom into a role and make the leap to tell a story in an engaging way. Every once in a while, you forget you are watching your own students and just get lost in the production."
The season kicks off with "Violet," the story of an isolated young woman who embarks on a bus trip during the Civil Rights Movement to find a televangelist that she believes can heal her scarred face. The play runs from Oct. 8-18, and is directed by Fred Love, assistant professor of theatre.
"The Learned Ladies of Park Avenue" takes the season into November. Set in 1936 New York, this screwball comedy features love triangles, a delusional aunt, a dithering father and a mad Hungarian cook. Oakland theatre professor Karen Sheridan directs the show, which runs Nov. 12-22.
Thomas Suda, special instructor of theater at Oakland, directs "The Good Doctor" Feb. 4-14. This play is adapted from stories by Anton Chekhov and is set in 19th century Russia. A comedy, this show presents a series of scenes whose common thread is a strangely familiar character.
The beloved classic "Little Women" takes the stage March 18-28, 2010. Michael Gillespie, associate professor of theater directs as the lives of the March sisters unfold. Jo, Meg, Amy, Beth and their beloved Marmee grow up while their father and husband is away in the Civil War.
"Dear Edwina" closes the season with performances in Varner Recital Hall June 4-6, as well as a school tour throughout May and June. Suda directs the story of Edwina Spoonapple from Paw Paw, Mich., as she makes last-minute preparations for her musical advice show, which she performs live from her garage every Sunday morning.
For more information about performance times and tickets, visit Oakland's
Theatre Performance Web site
and
ticket Web site
.
To learn about programs or how to get involved in the Department of Music, Theatre and Dance, visit the Web site at
oakland.edu/mtd
.
The 2009-10 Varner Theatre Season opens this week with "Violet." This year's lineup offers a variety of genres and subjects including musical, comedy and classics.

Created by Katherine Land - Deleted (land@oakland.edu) on Thursday, October 8, 2009
Modified by Katherine Land - Deleted (land@oakland.edu) on Friday, October 9, 2009
Article Start Date: Thursday, October 8, 2009