By Katie Land, news editor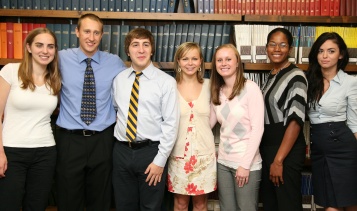 The 2009 SUPER class poses after their symposium in July. The students spent 12 weeks assisting in research experiments.
Since its official start in 2001, Oakland University's Eye Research Institute has given hands on research experience to more than 50 students through the Summer Undergraduate Program in Eye Research (SUPER).
The program offers highly competitive places for 5-7 students to work in individual and small group settings with one of six ERI faculty members on a research project for 12 weeks.
"These are students who are highly motivated to attend medical school, graduate school, optometry school or become science teachers," said Frank Giblin, director of ERI. "Almost all of them have had no research experience at all, so to be able to work closely with faculty, technicians, graduate students and post doctoral fellows who conduct research one hundred percent of the time is a great opportunity for them."
The students learn various techniques such as tissue culture, high performance liquid chromatography, various biochemical assays, histology, gel electrophoresis and molecular biology techniques.
"The special thing about the program is that when the students later apply and interview for post graduate science programs, they have a great deal to talk about regarding their research projects and the techniques that they have learned," Giblin explained. "I had a SUPER student once who spent the summer doing a technique on a certain type of instrument. When she later interviewed for medical school, the interviewer had just purchased that instrument, but didn't yet know how to use it, so the student explained how to do it."
The comprehensive program allows students to work on actual research in the lab and continue to learn new information during noontime lectures and seminars by visiting researchers. At the end of the summer, the students participate in a symposium and each give a 15-minute scientific talk about what they learned.
Senior Gerta Mane completed the program over the summer and is still working in the labs. The biochemistry major is currently studying for the MCAT exam and plans to go to medical school.
"Not everybody has this opportunity to get real lab experience," she said. "You are able to participate and be involved in the experiments, and have the chance to be published. It is very important to get your name out there."
OU's Center for Biomedical Research helps to fund five fellowship stipends for the summer, and this year the National Institute of Health (NIH) provided stimulus funds for an additional two student places. External funding from faculty members also pays for supplies for student projects.
This program is unique in that all of the lab supervisors have successfully obtained grants from NIH, which are incredibly competitive on a national scale. Each award was selected from thousands of applications from researchers at prestigious universities such as John Hopkins and Harvard, according to SUPER Director Ken Mitton.
"SUPER gives students the chance to experience and participate in real science and real research," Mitton said. "Having the kind of person who can earn an NIH grant teach you in a mentoring environment is special. It's true that students can learn about the scientific method in a book at a community college, but really doing it with a real scientist is a different story."
Applications for next summer's SUPER program become available January 19, 2010. For more information about the ERI, visit the
Web site
.
OU's Eye Research Institute has given important and unique hands on research experience to students through the Summer Undergraduate Program in Eye Research.

Created by Katherine Land - Deleted (land@oakland.edu) on Friday, October 2, 2009
Modified by Katherine Land - Deleted (land@oakland.edu) on Friday, October 2, 2009
Article Start Date: Friday, October 2, 2009