By Eric Reikowski, media relations assistant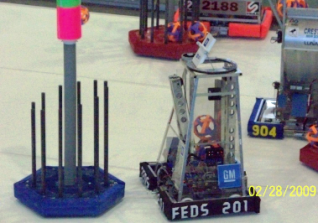 OU's FIRST Robotics team works to mentor high school students and prepare them for comptetetion.
As the importance of science and technology continues to grow, an Oakland University student organization has sprung up in support of local high school students learning in the cutting edge field of robotics.
FIRST Robotics at OU is comprised of students who serve as mentors to teams at area high schools. In fact, many FIRST Robotics at OU members are alumni of their high school robotics teams and volunteer their time to help current high school students prepare for the series of robotics competitions held each year.
A new competition theme is announced each January outlining the challenges that teams must design their robots to meet. This year's competition featured a low-friction playing surface, along with a special type of wheels and a new computer control system, according to OU student Kevin Swift, who mentors the FIRST Robotics team at Bishop Foley High School in Madison Heights.
"One of the great challenges of FIRST is that you never know what the Game Design Committee is going to throw at you," said Swift, a junior majoring in Information Technology.
Teams spend six weeks building their robots before putting them to the test in a series of district and regional competitions. The top teams from each state move on to the World Championship held in mid-April at the Georgia Dome in Atlanta, Georgia.
While that marks the end of the First Robotics season, many teams participate in a number of off-season invitational events. In early June, Oakland hosted the 17th annual Invitational Ground Vehicle Competition (IGVC), an event in which unmanned vehicles complete obstacle courses and navigate landscapes with the aid of GPS technologies. This year's competition included a tournament of the top 16 FIRST Robotics teams in the state. Two of those teams were led by officers from FIRST Robotics at OU.
"Everyone had a lot of fun," Swift said of the event. "It exposed a lot of high school kids to the college-level competition."
Alex Debusschere, president of FIRST Robotics at OU, added that teams are mentored not only by college students, but also by industry professionals who help inspire young people to pursue careers in science and technology. He emphasized that the robotics team is about much more than robots.
"There is always a need for help in the areas of business, Web site development, journalism, photography, marketing and anything else that goes into running an organization," he explained.
Inspiring excellence in science and technology is at the heart of FIRST Robotics as teams are recognized for more than just their performance at competitions. The Chairman's Award, the organization's most prestigious honor, recognizes the team that best promotes the ideals of FIRST Robotics through outreach activities such as showing off robots at symposiums and county fairs. In addition, an award is given to the team with the best Web site and an Entrepreneurship Award recognizes a team with a strong business plan to finance its activities.
With its hands-on approach and emphasis on real-world problem-solving, FIRST Robotics helps students cultivate their talents and lay the groundwork for a successful career.
"Experience with FIRST is probably the most valuable thing to have on your resume to set you apart from the competition in the job market," said Swift. "Employers know that FIRST alumni can work in a group, make presentations and have experience actually doing things, as opposed to sitting in a classroom hearing someone talk about doing things."
But for Swift and many other members of FIRST Robotics, nothing beats the rewards of interacting with diverse individuals who share a common passion for creativity, innovation and intellectual exchange.
"What is interesting about being a mentor is that you are always learning. Whether you are a seasoned engineer, a freshman in high school that is just starting out or a college-aged mentor, you still learn from each other," said Swift. "It is an experience I wouldn't trade for the world."
To learn more about FIRST Robotics, visit the national Web Site at
www.usfirst.org
or email Alex Debusschere at
andebuss@oakland.edu
.  
Oakland University's FIRST Robotics student organization has sprung up to support local high school students and help them learn about the cutting edge field of robotics.

Created by Katherine Land - Deleted (land@oakland.edu) on Wednesday, September 30, 2009
Modified by Katherine Land - Deleted (land@oakland.edu) on Wednesday, September 30, 2009
Article Start Date: Wednesday, September 30, 2009