Monday, September 28, 2009
Student-led Bike Share Program gathers support and participation
By Katie Land, news editor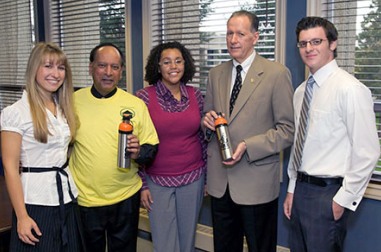 OU students Tawnee Milko, Erica Moorer and Anthony Ivione present bike share water bottles to President Russi and Provost Moudgil. The students helped develop and implement the program.
Oakland University's student-led Bike Share Program has enjoyed great success since its launch in early September. The initiative is growing quickly with generous support from students, staff and faculty.
Three student leaders presented official bike share water bottles, T-shirts and tote bags to President Gary Russi and Provost Virinder Moudgil on Monday, as a gesture of thanks.
Erica Moorer, Anthony Ivione and Tawnee Milko are representatives from the OU Student Congress and Sustaining Our Planet Earth (SOPE) student organization. Spearheading the student effort, they have been involved in virtually every stage of the process to make the bike share a reality.
"This whole experience has been amazing," Moorer said. "With President Russi's support, we have done some amazing things. Everyone has been extremely helpful by supporting the students and what we wanted to accomplish."
The immediate popularity of the program has created new obstacles, but the kind of obstacles that organizers hope to have, Moorer continued. An example is that many bikes have been found left behind in various campus parking lots. Glad to see that students are using the bikes, she is already talking about installing additional racks.
"We are all excited to see the program grow and to continue making new plans," Moorer said. "Before we get too carried away by success, we wanted to thank the people who made it possible."
The bike arsenal has already been increased by 23 bikes donated by students, faculty and staff. The new bikes will hit Oakland's sidewalks after a quick tune up and paint job.
"I am very pleased with the overwhelmingly positive campus response to the program," said Glenn McIntosh, dean and assistant vice president for Student Affairs. "I believe the early success of the program can be attributed to the student involvement in virtually every stage of this program's development."
Based on successful programs at other colleges and universities, Bike Share offers a free, eco-friendly and convenient choice for students, staff and faculty to cover distances on and off campus deemed too far to walk. It also reduces traffic, decreases parking demand and reduces fuel emissions, all while promoting physical fitness and a sense of community.
"It is important to start looking at alternative forms of transportation," McIntosh said. "The bike share program serves a dual purpose by promoting an eco-friendly system and wellness concept to our faculty, staff and students."
Developed to be used on an honor system, the program began with about 30 bikes and 30 designated bike racks. The bikes are to be used only on campus and will be stored during the winter months.
OU's student-led Bike Share Program has enjoyed great success since its launch in early September. The program is continuing to grow thanks to generous support and participation.

Created by Katherine Land - Deleted (land@oakland.edu) on Monday, September 28, 2009
Modified by Katherine Land - Deleted (land@oakland.edu) on Thursday, October 1, 2009
Article Start Date: Monday, September 28, 2009