Friday, September 4, 2009
Abdul Kalam, India's eleventh president to speak at OU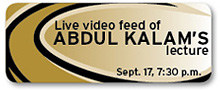 For those who cannot attend, Abdul Kalam's lecture will be presented online via live streaming video. Click the button above to access the live video feed.


By Katie Land, news editor

Oakland University will welcome a distinguished visitor to campus, as former president of India, Abdul Kalam joins the Varner Vitality lecture series. The special presentation, "An Evening with his Excellency," will take place at 7:30 p.m. on Thursday, Sept. 17.
Overwhelming interest in the presentation has led to what will be a sold-out audience in the O'rena. Those interested is seeing the presentation but who didn't beat the rush for tickets can log into live,
online streaming video
.
Known as the "people's president," Kalam also is a noted aeronautical engineer popularly known as the Missile Man of India for his work on the development of ballistic missile and space rocket technology. His previous work includes positions with India's Defense Research and Development Organization and the Indian Space Research Organization.
"Dr. Kalam is an acknowledged international statesman, a distinguished scholar, a motivating professor, a genius engineer, a celebrated poet and song writer, and an author of noted books," said Virinder Moudgil, OU's provost and senior vice president for academic affairs.
While serving as its 11th president from 2002 to 2007, Kalam was dubbed "India's Best President" by a CNN-IBN poll.
Kalam will receive an honorary degree from Oakland and will take time to meet in a smaller group setting with faculty and student groups to continue discussions on topics such as engineering science and the future of education.
"His visionary work and inspirational leadership has had a transformative impact on India's progress as a developing nation. His visit to Oakland University provides a once-in-a-lifetime opportunity to the campus and the regional communities to experience the views and intellect of a respected world leader," Moudgil said. "We are fortunate that Dr. Kalam has generously given his time so our students, faculty and staff can interact with him, in addition to listening to his message in the scheduled public lecture."
As chairman of the Technology Information, Forecasting and Assessment Council, Kalam utilized the talents of more than 500 colleagues to develop "Technology Vision 2020," a road map for transforming India into a developed nation.
Kalam already has been bestowed with many honors and awards from various countries and academic institutions, including more than 32 honorary degrees. Among these are the coveted Padma Bhushan, Padma Vibhushan and the Bharat Ratna awards, which are the highest honors the Indian government presents to civilians and distinguished citizens.
The Varner Vitality Lecture Series is designed to sustain the scholarly aspirations of the university community while enhancing, invigorating and uniting university life.
The event is free and open to the campus community and the public. Seating is limited. Those interested in attending can RSVP at
aaevent2@oakland.edu
. Doors will open at 5:30 p.m. Contact
english@oakland.edu
or call (248) 370-2190 for more information.
Former President of India Abdul Kalam will speak to a sold-out audience at 7:30 p.m. on Thursday, Sept. 17, in the O'rena.

Created by Katherine Land - Deleted (land@oakland.edu) on Friday, September 4, 2009
Modified by Michelle Moser (strunge@oakland.edu) on Thursday, September 17, 2009
Article Start Date: Friday, September 4, 2009