Wednesday, August 19, 2009
Auto industry pioneer Sue Cischke got her start at OU
By Katie Land, news editor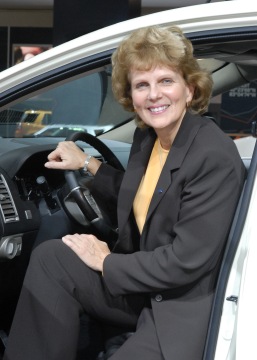 Oakland alumna Sue Cischke has risen to the position of a vice president at Ford.
Considered a female pioneer in the auto industry, Sue Cischke began her career path at Oakland University. Working in a field dominated by men, she has risen to the position of group vice president of sustainability, environment and safety engineering at Ford.
The 1976 graduate earned her bachelor's of engineering from Oakland and went on to complete two master's degrees from the University of Michigan. She said her time at Oakland prepared her for graduate school and built the skills she uses on a daily basis throughout a successful career.
"It was a terrific experience," Cishke said. "Oakland focused on the way to learn. Learning how to learn or how to problem-solve is a vital skill in any career. Working in labs and working in teams takes special people skills, and those were built at Oakland."
Cischke's list of recognitions is long and distinguished. In 2008, the Automotive Hall of Fame honored her with its Distinguished Service Citation. In 1997, she received the Horace H. Rackham Award for outstanding humanitarian achievements from the Engineering Society of Detroit, the first woman in the society's 102-year history to win the award. She also has been twice named one of "100 Leading Women" by Automotive News and was chosen among the "Most Influential Women" by Crain's Detroit Business.
Cischke spent nearly 25 years at Chrysler before moving on to Ford in 2001. It has been both fascinating and gratifying to have earned responsible positions at two major auto companies and to contribute to their day-to-day decision making, she said.
"I have worked technical jobs and managerial jobs with technical roots. I ran the proving grounds for Chrysler, and it was an opportunity to use all of the skills I learned – ranging from technical and people to teamwork and problem-solving skills. Oakland served to prepare me for more opportunity in the management ranks. You can always fall back on problem-solving skills."
When she started at Oakland, there were less than 20 women in the engineering program. By her graduation, only three were left. Today the number of women entering the auto industry is still pretty small, Cishke said.
"Getting more women involved at all levels is certainly important. The main goal is to give customers what they want and diversity within the company helps us supply to a diverse customer base. And don't forget that nearly 80 percent of car-buying decisions are made by women," she added.
A major deterrent is that the auto industry is very demanding in terms of time. Companies like Ford promote a balance between work and home life to provide more flexible environments and encourage women to join the field. Today's technological advances keep people in near constant contact and help to give companies a greater reach, Cishke continued.
While this is a difficult and challenging time in history for America's auto industry, Cischke remains focused on the task ahead and looks forward to a brighter and better future for both manufacturing and Michigan.
"Oakland is an asset to the community," she said. "It has a long history of graduating people with a well-rounded education and it is located right in our backyard. At Ford, we will continue to take advantage of OU grads. Michigan can recover and grow strong again with the help of strong auto companies and strong universities like Oakland."
To learn more about Oakland's engineering programs, visit the School of Engineering and Computer Science Web site at
www.oakland.edu/secs
.
Auto industry female pioneer Sue Cischke began her career path at OU, rising to the position of group vice president of sustainability, environment and safety engineering at Ford.

Created by Katherine Land - Deleted (land@oakland.edu) on Wednesday, August 19, 2009
Modified by Katherine Land - Deleted (land@oakland.edu) on Wednesday, August 19, 2009
Article Start Date: Wednesday, August 19, 2009