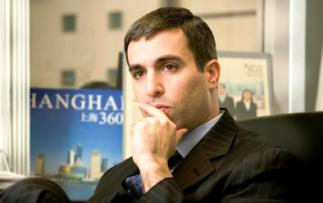 OU alum Aaron Boesky helped finance a study abroad trip to China this spring for three SBA students.
Before moving to Hong Kong and launching Marco Polo Investments, the world's only Shanghai Stock Market specialized hedge-fund manager, founder Aaron Boesky turned to Oakland University to learn everything about creating a global business.
As a post-bachelor's student, he delved into courses such as the School of Business Administration's International Economics and the College of Arts and Sciences' Mandarin Chinese and Chinese History to prepare for his new venture.
"All of my courses contributed greatly to my decision to move to China and open Marco Polo," Boesky said. "In addition, Oakland University provided me with the opportunity to study in Beijing at the Beijing Foreign Affairs University - an experience I will never forget."
With a desire to ignite similar passion within the SBA's current student body, Boesky returned to OU last winter to share his enthusiasm and insight for international business with a group of SBA scholars. He encouraged them to take advantage of the chance to study abroad, going so far as offering to pay for airfare to China.
Three students who attended the meeting jumped at the opportunity and joined a trip to China planned through OU's School of Engineering and Computer Science. Boesky worked with the SBA to create a fund to support the students' travel.
The SBA students Vincent Asmar, Waseem Samaan and Joseph Zuchora each spent three weeks in China this spring earning a certificate in Chinese and working on Global Scholars research projects with students from Beijing Jiaotong University. The research project compared automotive preferences between U.S. and China consumers, and is part of the SBA's international learning experience to be completed in a virtual classroom.
Samaan, an accounting and finance double major planning to graduate in 2010, always hoped to study abroad, but couldn't fit a semester-long program into his busy schedule. He was already working internships, serving as a peer adviser and acting as treasurer for Beta Alpha Psi, an honors organization. The three-week trip provided the students the opportunity to experience a study abroad program without being gone for an entire term.
"If it wasn't for Mr. Boesky's support I would have never considered the trip," said Samaan, who is planning a career in international business. "Because of his generosity I was able to explore a new place and culture, and gain perspective. I learned about cultural differences, communicating with limited language skills, networking, international business and the art of bargaining and bartering."
Boesky is pleased the students are learning many of the same things he did. "I learned these same skills when I took my first trip to China, while working in a family business as an asset manager in Michigan and taking courses at Oakland University," he said.
Boesky appreciates the wealth of knowledge that OU professors shared with him, saying, "Professors Crouch and Coppin were particularly inspiring. In addition, I'm thankful for Dr. Li, who met me in Guiyang, China, to show me around and Tang Lao Shi, the Mandarin teacher who came with me to Beijing my first time."
As the Shanghai Stock Market emerges as the most liquid market in Asia and is set to overtake Japan this year as Asia's largest stock market, Marco Polo continues to grow.
"To date, we are up 160 percent since we began, while the Shanghai A-Share Index was up only 68 percent in the same period," says Boesky.
That success is good for Boesky and it's good for Oakland University.
"As our group here prospers, I will give ever greater amounts to support the students at OU," he said."I hope to do this through mentoring and gifts aimed at increasing the university's exposure internationally."
For more information about the SBA, visit the
Web site
.
OU alum Aaron Boesky gives back to the SBA after launching Marco Polo Investments, the world's only Shanghai Stock Market specialized hedge-fund manager.

Created by Katherine Land - Deleted (land@oakland.edu) on Tuesday, August 18, 2009
Modified by Katherine Land - Deleted (land@oakland.edu) on Tuesday, August 18, 2009
Article Start Date: Tuesday, August 18, 2009