By Katie Land, news editor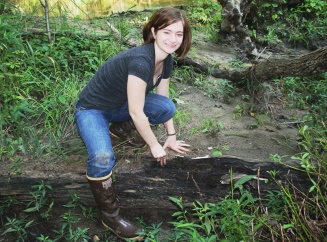 Graduate student Holly Greiner studies the invasive Asian jumping worm on OU's Biological Preserve.
Traipsing through the underbrush and wading across a flooded waterway, graduate student Holly Greiner is able to conduct a groundbreaking research project right in Oakland University's backyard.
More than a year ago, while visiting Oakland's Biological Preserve, Greiner and her graduate advisor, Scott Tiegs, an assistant professor in the Department of Biological Sciences, discovered the presence of invasive Asian jumping worms, previously undocumented in Michigan.
The Asian worms are not supposed to be in the U.S. at all, but they are. They have been documented in various locations in the South but were not known in the Great Lakes region until now.
"This find presented an opportunity to study a novel system of local importance," Greiner
said. "Plus, I just could not resist interacting with organisms as charismatic as the Asian jumping worms."
The process has been full of revelations and discoveries. With very little known about the worms, nearly all of Greiner's research is new. Despite setbacks like floods and hungry raccoons, she's been able to gain a number of insights, including that the worms have an annual life cycle.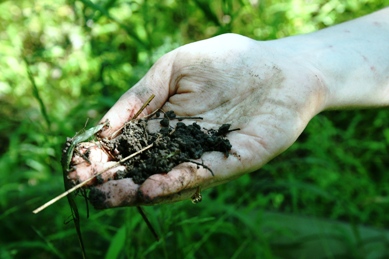 Greiner shows the effects of Asian worms on soil. Worms often cause undesirable ecological change.
"Part of the appeal of the project is the fact that OU can offer that kind of research opportunity," she said. "It is nice to be able to use the preserve and to let people know that it exists. We were surprised that the worms were here in Michigan at all. It's pretty wild."
Greiner's field and lab experiments are designed to establish an understanding of the impact of this exotic species on the forest ecosystems of Michigan. She studies the growth cycle of
Asian jumpers and utilizes enclosures to measure their effects on key soil properties such as nitrogen cycling, microbial community structure, pH, organic-matter decomposition and carbon dioxide production.
Most people, biologists included, have the perception that earthworms are good for the soil, but the presence of exotic earthworms is often associated with undesirable ecological processes, according to Tiegs.
The Amynthas hilgendorfi's annual life cycle enables them to avoid the cold of winter, leaving behind only cocoons to hatch the following spring. This ability to establish themselves in a variety of climates creates a greater cause for concern, Greiner said.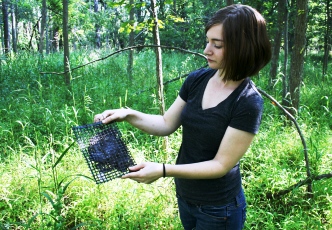 The graduate student's research encompasses growth rates and key soil properties.
Findings from these studies will help researchers and the general public anticipate the ecological impacts of this species on the preserve and wherever else it is found.
While her field experiment will come to an end in the early fall, Greiner still has a lot to do. She will continue to work on lab experiments through October and then switch to data analysis and writing. Last winter, Greiner and Tiegs worked on a research paper that they recently submitted to a scientific journal for publication.
"Holly is super hard-working and invests more time into her research project than any advisor could reasonably ask for," Tiegs said. "I think much of her motivation stems from the fact that as a native Michigander, she has a sincere interest in the native flora and fauna of the state."
At the end of the day, Greiner is simply happy to be working outside and learning new things. She has welcomed a few undergraduate students to assist with her project, offering them a wealth of knowledge, experience and enthusiasm for any study of biology.
"I hope to spark an interest in biological research among OU students," Greiner said. "There is such a diversity of research topics to pursue and I think my somewhat atypical project is a testament to that. Whatever your interest, there is a research question waiting to be answered."
A handful of other ongoing research projects utilize Oakland's Eastern and Western preserves at any given time. Combined, they create a study space of roughly 110 acres of forests, meadows, streams and wetlands.
For more information about the preserve, visit the
Web site
.
Graduate student Holly Greiner researches the ecological effects of invasive Asian jumping worms on OU's Biological Preserve, a species previously undocumented in Michigan.

Created by Katherine Land - Deleted (land@oakland.edu) on Friday, August 14, 2009
Modified by Katherine Land - Deleted (land@oakland.edu) on Friday, August 14, 2009
Article Start Date: Friday, August 14, 2009