Tuesday, August 11, 2009
Food Network TV host Alton Brown comes to campus Sept. 30
By Dave Groves, staff writer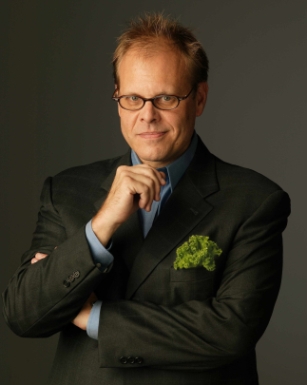 Alton Brown, host of Food Network's "Good Eats" will come to OU this September.
Alton Brown, creator and host of the award-winning Food Network show "Good Eats," will serve his culinary expertise, creativity, humor and enthusiasm to a sold-out Oakland University audience during a lecture set for 7 p.m. on Wednesday, Sept. 30, in the O'rena.
Sponsored by the Student Life Lecture Board, the OU Alumni Association, Chartwells Dining Services and the Oakland Press, the event will add a fun and unique presentation to the Student Life Lecture series.
"Alton Brown was the students' first choice for this year's lecture series," said Paul Franklin, OU coordinator of campus programs. Noting that Brown would be able to speak specifically about the science of cooking, Franklin added, "the students were just thrilled with that concept."
Boasting a diverse array of professional experience – including work as a cinematographer, author and actor – Brown is also the host of the miniseries "Feasting on Asphalt" and "Feasting on Waves," and is the main commentator on "Iron Chef America." He has written several cooking how-to books and is a regular contributor to Bon Appétit and Men's Journal magazines.
During his career as a cinematographer, Brown began to focus on an interest he had in cooking. At the time, however, he became frustrated with the quality of the cooking shows he watched and decided to produce his own. To bone up on the science and methods of cooking, however, he first enrolled in the New England Culinary Institute.
Since graduating in 1997, Brown has built a considerable fan base not only by sharing his skills and knowledge, but by seasoning his presentations with creative, tongue-in-cheek references to pop culture. He had a conversation with the cartoon character "Wimpy" during a show about hamburgers, for example.
Brown also exhibits a unique flair for his craft by demonstrating how to use a variety of makeshift cooking devices, which he builds to show that aspiring cooks don't need to spend a fortune on fancy devices sold in stores. In one instance, he made a barbecue smoker out of an electric hot plate, a pie pan, a flower pot with a basin and a thermometer.
"He's very entertaining and this will definitely be something different for people on campus," said Amanda Vanderford, chair of the Student Life Program Board. "I think there will be a lot of people who want to see him in person."
Alton Brown, creator and host of the award-winning Food Network show "Good Eats," will serve his culinary expertise and humor to an OU audience this September. 

Created by Katherine Land - Deleted (land@oakland.edu) on Tuesday, August 11, 2009
Modified by David Groves (groves@oakland.edu) on Tuesday, September 29, 2009
Article Start Date: Tuesday, August 11, 2009