By Katie Land, news editor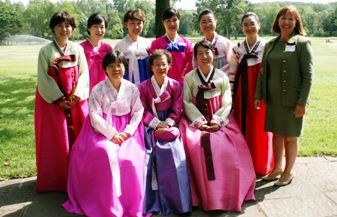 Barbara Harrison led a week-long nursing exchange program for eight South Korean students from Seoul.
Oakland University's School of Nursing continued expanding its global reach by hosting a group of eight South Korean nursing students from the Hanyang University in Seoul.
Arriving in early August, this was the second group to visit Oakland for a week-long exchange of cultural, medical and social ideas. A 2008 exchange had a group of OU nursing graduate students travel to South Korea.
All of the students are interested in gerontology and interacting with advanced practitioner nurses to learn about the type of care offered in the United States. Advanced practice nurses, who have graduate degrees in nursing, are a new addition to the South Korean healthcare system.
The goal is to increase the students' knowledge and understanding of advanced nursing roles in gerontology practices in the U.S., particularly in the different types of facilities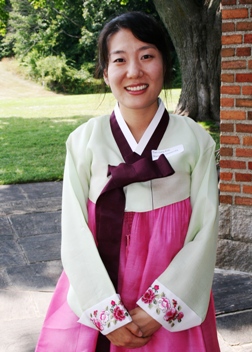 Korean student Eun Jung Kim traveled to learn about U.S. gerontology practices.
and care that are different from a traditional hospital.
"This year's program is different from years past because it is more comprehensive," said Barbara Harrison, an assistant professor in the SON and coordinator of the nurse practitioner program. "We included more settings this year, which allowed the Korean nurses to see a broader range of nursing roles in a broader spectrum of health care."
Tours and trips took the students to Beaumont Hospital-Royal Oak, the Older Persons Coalition of Rochester, local long-term care facilities and adult day care facilities. The Korean students met with Oakland faculty and learned about research at the university. They toured the campus, as well as historic locations such as Henry Ford Greenfield Village and Meadow Brook Hall. The students also attended a picnic hosted by Oakland's nursing honor society, Sigma Theta Tau.
Korean student Eun Jung Kim was very pleased with her experience and enjoyed learning about the cultural differences in patient care. "I think American nurses' caring is based more on humanity and looking at the whole person," she said.
Kim noticed that American nurses have fewer patients and are able to spend more time with individuals. "We treat more patients than here," she said of her experience in South Korea. "We are very busy and have to take care of more people."
Two of the major differences in care involve sleeping and eating. Most Korean adults sleep on mats on the floor, using the motion of standing and lying as a flexibility exercise every morning and night, while meals are nearly always served family-style, even in restaurants.
"The Korean culture is more community-minded, both in the larger social sense and in the family unit," Harrison explained. "In the United States, people are very individualistic. These cultural differences influence health care practices."
As part of the exchange program, Oakland students Marilyn Scowzewski, Susan Leegstra and Patricia Pawlik traveled to South Korea while working toward their master's degrees in 2008. They were able to experience a taste of the culture of Seoul with nursing students as their tour guides. All were very eager to learn more about health care in a different country.
"Students learn through different examples," Harrison said. "No healthcare system is perfect, so we encourage students to see different systems and settings designed to maintain wellness and to show how nurses contribute through their day-to-day nursing care."
Oakland University's School of Nursing continued expanding its global reach by hosting a group of eight South Korean nursing students from the Hanyang University in Seoul.

Created by Katherine Land - Deleted (land@oakland.edu) on Monday, August 10, 2009
Modified by Katherine Land - Deleted (land@oakland.edu) on Monday, August 10, 2009
Article Start Date: Monday, August 10, 2009