Thursday, August 6, 2009
Four Corners Montessori Academy slated to open in September
By Eric Reikowski, media relations assistant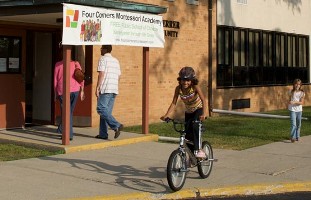 The new Four Corners Montessori Academy is slated to open September 8 to the public.
Oakland University's Office of Public School Academies has announced the planned opening of Four Corners Montessori Academy (FCMA) in Madison Heights. The pre-K through 8th grade academy was approved by the OU Board of Trustees in June 2008 and strives to provide Metro Detroit children with a quality education based on Montessori educational principles. A tuition-based preschool program will be offered along with the tuition-free K-8 program. The academy is scheduled to open September 8.
FCMA aims to create a positive learning environment with low student-to-teacher ratios, individualized curriculum, hands-on learning experiences and multi-age classrooms. In addition, the academy will offer full-day kindergarten classes and serve students of diverse social and academic backgrounds.
State-certified and Montessori-trained teachers will develop supportive relationships with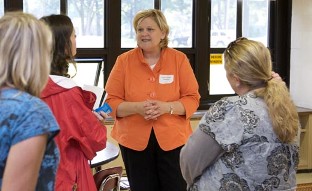 Parents learn more about the new tuition-free public academy program for K-8th grade students.
students, guiding them for three-year periods on a distinct path toward knowledge and self-discovery. Teachers will foster character development and achievement by affording students the opportunity to pursue their natural talents and learning styles. In addition, students will be part of a supportive learning community that values diversity and promotes collaboration among parents, teachers and peers.
Montessori education is a proven method of instruction designed for all types of learners and has been an established model for more than 100 years. Many parents around the world seek out Montessori education for their children because of its ability to create life-long learners who are confident, self-directed and well-respected.
Four Corners Montessori Academy brings together students from the Metro Detroit Area to become a true community of learners that embraces Maria Montessori's teachings and ideals of diversity, peace education and individualized learning.
The public is welcome to attend the FCMA open house on Thursday, August 13 from 6-8 pm. Four Corners Montessori Academy is located at 1075 E. Gardenia Ave. in Madison Heights.
For more information about FCMA, visit 
www.fourcornersmontessori.com
or call (248) 452-7001.
OU's new Four Corners Montessori Academy is set to open September 8 in Madison Heights. An open house is planned for August 13 for parents of pre-K through 8th grade students.

Created by Katherine Land - Deleted (land@oakland.edu) on Thursday, August 6, 2009
Modified by Katherine Land - Deleted (land@oakland.edu) on Friday, August 7, 2009
Article Start Date: Thursday, August 6, 2009