Monday, July 27, 2009
Message from the Dean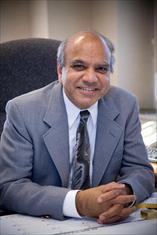 Dean Mohan Tanniru
Summer in the School of Business Administration is about connecting to the community. Whether it is through internships, partnerships, workshops, conversations or
summer camps
, making a difference for students, business, the community and the economy is a top priority for the SBA's
Center for Integrated Business Research and Education
(CIBRE).

In fact, in this issue of SBA Insight Online – and the upcoming fall issue of SBA Insight – you'll see concrete examples of how the CIBRE is integrated into the SBA and how that integration is helping transform the state of Michigan through education, outreach and research.

This issue offers you the chance to discover how the SBA is already making a difference. For example, you'll read about how we're partnering with the state to help professionals acquire the skills necessary for success in the 21st century workforce, how new and existing summer camps are giving high school students the chance to explore entrepreneurship and business, and how we're leveraging our connections with the business community to provide valuable internship experiences for SBA students.

That focus will continue in the fall issue of SBA Insight where you'll read about a unique summer internship program the SBA is offering its graduate and undergraduate students. Besides providing an experiential learning opportunity for students, it is also providing essential support to businesses, many of which are facing tight budgets. The approach groups students into teams –undergraduate student teams led by a graduate student. . The student teams meet alternative Saturdays to share their experiences, follow project management principles and present their findings at the end of the summer.

In addition, this summer CIBRE held conversations with displaced working professionals looking for alternative careers and CIBRE events on automotive futures and health care information integration. For more information, refer to the CIBRE Web site at 
www.sba.oakland.edu/cibre
and read more about these economy-shifting discussions in the fall SBA Insight.

These are only a few examples of how the SBA is connecting with the community this summer. In this issue and future ones, you will read more and more about how the SBA's focus on integrative thinking, experiential learning and global understanding are coming together in creating excellence in Oakland University's School of Business Administration.

Summer in the School of Business Administration is about connecting to the community. Whether it is through internships, partnerships, workshops, conversations or summer camps, making a difference for students, business, the community and the economy is a top priority for the SBA's 
Center for Integrated Business Research and Education
(CIBRE). 
In fact, in this issue of SBA Insight Online – and the upcoming fall issue of SBA Insight – you'll see concrete examples of how the CIBRE is integrated into the SBA and how that integration is helping transform the state of Michigan through education, outreach and research.
This issue offers you the chance to discover how the SBA is already making a difference. For example, you'll read about how we're partnering with the state to help professionals acquire the skills necessary for success in the 21st century workforce, how new and existing summer camps are giving high school students the chance to explore entrepreneurship and business, and how we're leveraging our connections with the business community to provide valuable internship experiences for SBA students.
Created by Linda Bowers (bowers2@oakland.edu) on Friday, June 26, 2009
Modified by Linda Bowers (bowers2@oakland.edu) on Tuesday, August 11, 2009
Article Start Date: Friday, June 26, 2009