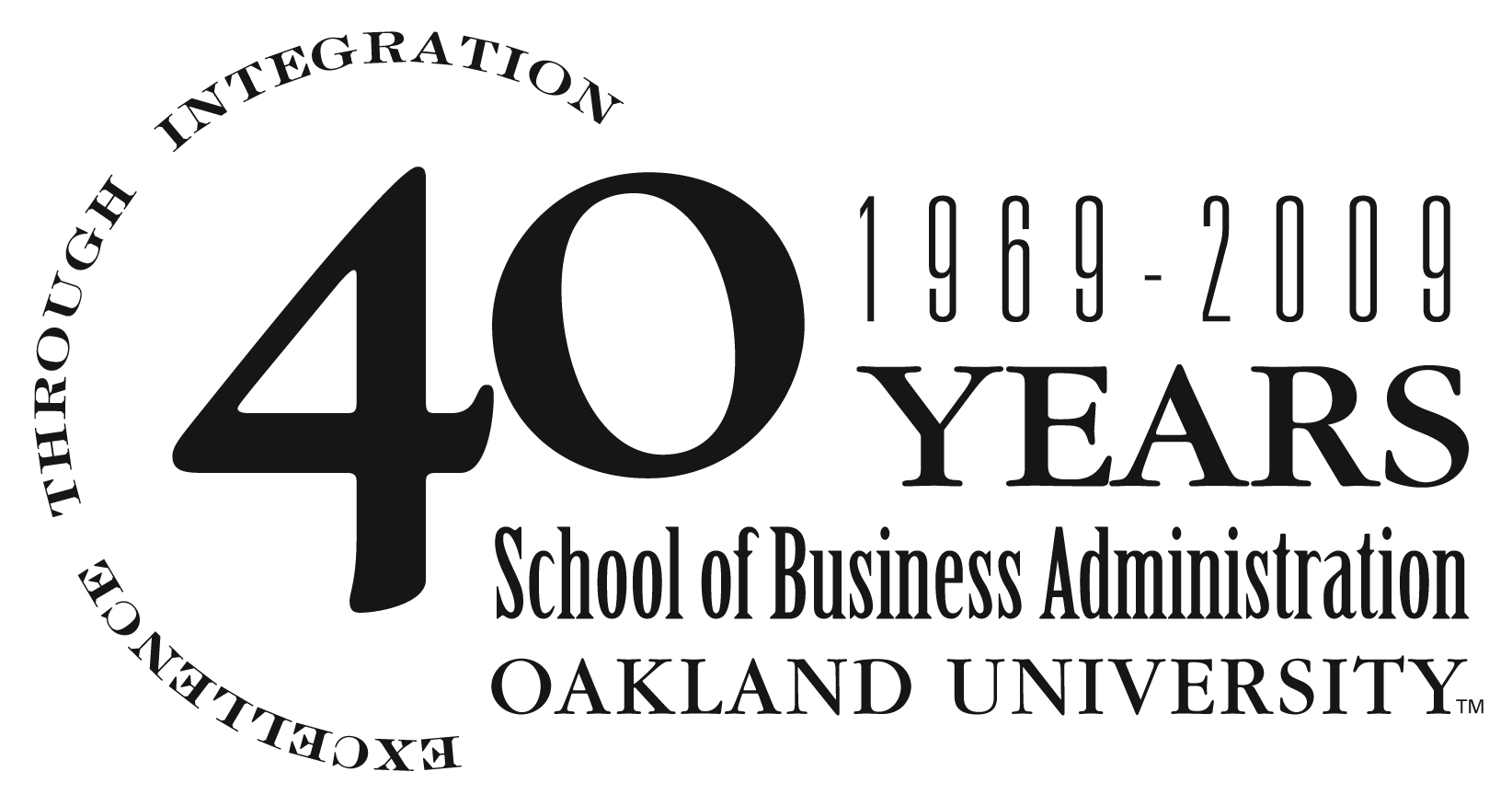 Everyone is invited to join the SBA as it celebrates its 40th anniversary at a series of special events recognizing the contributions of its expert faculty members, success of its graduates, and the tremendous growth in the school's reputation in the business and rsearch communities.
Three events catering to the different interests and needs of alumni, partners, friends and others are scheduled for Thursday, Oct. 8, through Saturday, Oct. 10:
• SBA Alumni, Faculty and Friends Golf, Thursday, Oct. 8
• International Business Conference: The Future of Business Leadership, Friday, Oct. 9
• 40th Anniversary Celebration Dinner, Saturday, Oct. 10.
Golf, fun and networking
Pull together a foursome for 18 holes to kickoff this special anniversary weekend. Tee times will be available for SBA alumni, faculty and friends at the R & S Sharf Golf Course, Thursday, Oct. 8.
Business conference focuses on leadership
Influence and learn the different facets of leadership at this full-day international business conference: The Future of Business Leadership, Friday, Oct. 9, from 9 a.m. to 4:30 p.m. A strolling international-themed evening reception and student poster presentation follows, from 4:30-6 p.m.
Attendees of this thought-provoking conference will gain and share insight on the importance of interplay between business schools, business and the international marketplace. Here, industry executives, academic thought leaders and government officials will present and discuss the challenges, opportunities and successes in educating business students prepared for world business. The impressive agenda includes speakers and topics that cover today's issues and set tomorrow's educational agenda.
The morning keynote will focus on Creating a New Paradigm in Education: What do tomorrow's business leaders need?
The luncheon speaker, James E. Schrager SBA 71, clinical professor of entrepreneurship and strategic management for the University of Chicago Booth School of Business, will share his expertise on business strategy and globalization.
Discussions and panel sessions will include:
• New Learning Models in Business Leadership: What are the best practices?
• International Education: What role can embassies play?
• Walking the Talk: Ethics is no longer just case studies for the weak-kneed.
• The Intersection of Technology and Strategy: Does this create—or impede – growth?a
Dinner celebration
Come celebrate the SBA's 40th Anniversary with faculty, friends and former classmates Saturday, Oct. 10, at 7p.m., in the Oakland Center Banquet Rooms. From delightful music provided by the finest artists from OU's Department of Music, Theatre and Dance, to a video montage of the SBA's rich history, this is an evening to reminisce, renew friendships and honor those such as Professor John Tower, who, over the past 40 years, contributed to the SBA as we know it today.
A portion of the proceeds from this event will benefit SBA Student Scholarships.
Join the fun

For more information and to register for any of these events, click
here
.
 Everyone is invited to join the SBA as it celebrates its 40th anniversary at a series of special events recognizing the contributions of its expert faculty members, success of its graduates, and the tremendous growth in the school's reputation in the business and rsearch communities.

Three events catering to the different interests and needs of alumni, partners, friends and others are scheduled for Thursday, Oct. 8, through Saturday, Oct. 10:

• SBA Alumni, Faculty and Friends Golf, Thursday, Oct. 8
• International Business Conference: The Future of Business Leadership, Friday, Oct. 9
• 40th Anniversary Celebration Dinner, Saturday, Oct. 10.


Created by Linda Bowers (bowers2@oakland.edu) on Tuesday, June 30, 2009
Modified by Linda Bowers (bowers2@oakland.edu) on Tuesday, August 11, 2009
Article Start Date: Tuesday, June 30, 2009