By Katie Land, news editor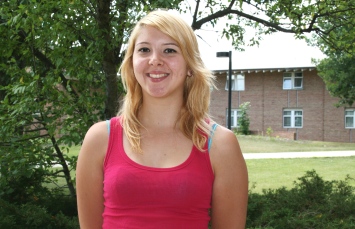 Katie Hepfinger took first place in the "Why I love OU" category. She directed, acted and edited her video.
Grand prize winners for Oakland University's first YouTube contest have been announced. They are Steve St. Germain for "Advantages of OU's Resources," Katie Hepfinger for "Why I love OU" and Steve Kanter for "Creative Ways I'm paying for OU." Each student received a $500 gift card to Barnes & Noble bookstores.
All 15 participants in the contest brought home prizes. The runners up in each category won a Samsung Mini DV Camcorder with LCD Monitor and honorable mention contestants won a gift bag filled with OU gear such as sweatshirts, pennants, lanyards, mugs, a jump drive and more.
Students created 30-second to two-minute long videos featured on Oakland's YouTube channel at
www.youtube.com/oaklanduniv
.
"What made me decide to join was how simple and fun the contest seemed. It was out of the ordinary, not just some "Why I love OU" essay. It
was innovative, and I knew I could bring something fun to the table," Hepfinger said.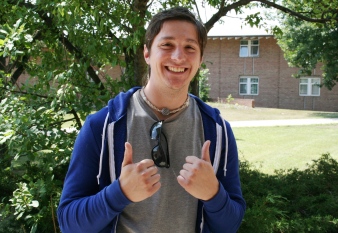 Steve St. Germain won the grand prize for the "Advantages of OU's Resources" category.
The sophomore and communications major acted in and directed her own video, portraying a student late for class who finds time to visit various campus locations before realizing how interesting, welcoming and easily accessible Oakland's campus is. She even arrives to class in the nick of time.
St. Germain, a marketing major, aimed for a documentary-style video where he explores the campus and randomly meets professors to see if they had time to talk to students. Everyone was very willing to participate, he said.
"It was definitely a success," St. Germain said. "It's always great to know your work is being appreciated and I never expected to win. That was just the icing on the cake. Students at Oakland University need to start thinking out of the box, because you don't have to be a film student to make a video. Why not give it a shot?"
Kanter said if given a chance, he would definitely participate again. "Absolutely. I had a great time doing what I love and was lucky enough to win something along the way."
The premise of his film was the concern of an OU student about paying for tuition. When she opens her bill, she realizes that it is just another obstacle. When life gave her lemons, she made lemonade – and sold it to pay for school.
"I had a great time making the video. My favorite part was testing the actual lemonade and realizing that we were completely incapable of making it taste even bearable," Kanter continued.
The success of this first university-wide video contest may help to shape similar media contests in the future. Follow OU on various social networking sites and www.oakland.edu for more information about upcoming events.
•
www.oakland.edu/twitter
•
www.oakland.edu/facebook

• 
www.oakland.edu/flickr
View all 15 YouTube contest entries below.
WHY YOU LOVE OU
1. Why I Chose Oakland University by WaxFlowers (Katie Hepfinger)
http://www.youtube.com/watch?v=y8Ktdab2eEQ&feature=PlayList&p=BCCBC36BE1B8364C&index=6

2. Why I Chose Oakland by kyonick11 (Kim Yonick)
http://www.youtube.com/watch?v=YEzvkVYGd1k&feature=PlayList&p=BCCBC36BE1B8364C&index=5
3. Why I LOVE OU! by cedarpointfan
http://www.youtube.com/watch?v=vStUVN5Li_M&feature=PlayList&p=BCCBC36BE1B8364C&index=2

4. Why I Chose Oakland University by k2alexx
http://www.youtube.com/watch?v=fPyFHIeppN8
5. AdamSharpYouTubeContestEntry by sharpster1987 (Adam Sharp)
http://www.youtube.com/watch?v=bBpdn6LOtQ0&feature=PlayList&p=BCCBC36BE1B8364C&index=4
CREATIVE WAYS YOU'RE PAYING FOR COLLEGE
1. OU Youtube Contest by Steve96 (Steve Kanter)
http://www.youtube.com/watch?v=fDygu61tx4U&feature=PlayList&p=BCCBC36BE1B8364C&index=0
2. Neil & Thaddeus: Picking Oakland University by De4our (Joshua DeFour and Brad Barr)
http://www.youtube.com/watch?v=Sa1AQHhq5vo&feature=PlayList&p=BCCBC36BE1B8364C&index=1
3. Youtubevideocontest61509 by scvore (Sarah Vore)
http://www.youtube.com/watch?v=Kpwzcrnhl3I&feature=PlayList&p=BCCBC36BE1B8364C&index=8
THE ADVANTAGES OF OU'S RESOURCES
1. Oakland University staff is accessible by sixwaystop (Steve St. Germain)
http://www.youtube.com/watch?v=nmkm9c6981Q&feature=PlayList&p=BCCBC36BE1B8364C&index=7
2. Aaron Segel's View on Oakland University's Resources by aaronsegel (Aaron Segel)
http://www.youtube.com/watch?v=ZOWSqgEURmU&feature=PlayList&p=BCCBC36BE1B8364C&index=3

3. Grizzman Talks About the Advantages of Oakland University by svmyint
http://www.youtube.com/watch?v=imd-1JPfyE8&feature=PlayList&p=BCCBC36BE1B8364C&index=11
4. Oakland CSE IT by OUPackerFan (Jason Bigelow)
http://www.youtube.com/watch?v=6paYXxFCp0w&feature=PlayList&p=BCCBC36BE1B8364C&index=10
MISC. ENTRIES
1. Follow OU on Twitter by cplagiarism
http://www.youtube.com/watch?v=YjDYs49Sh_c&feature=PlayList&p=BCCBC36BE1B8364C&index=9
2. Grizzdance Commercial by ougrizzdance
http://www.youtube.com/watch?v=dL9Vtd9aJK4&feature=PlayList&p=BCCBC36BE1B8364C&index=12

3. I made OU affordable. Here's how. By blfielde (Ben Fielder)
http://www.youtube.com/watch?v=Y2CJPSr8glU&feature=PlayList&p=BCCBC36BE1B8364C&index=13
The grand prize winners for OU's YouTube contest are Steve St. Germain, Katie Hepfinger and Steve Cantor. Each student won a $500 gift card to Barnes & Noble bookstores.

Created by Katherine Land - Deleted (land@oakland.edu) on Friday, July 24, 2009
Modified by Katherine Land - Deleted (land@oakland.edu) on Wednesday, July 29, 2009
Article Start Date: Friday, July 24, 2009