By Katie Land, news editor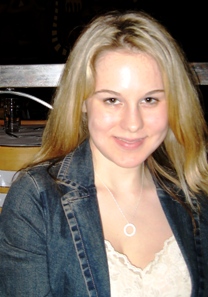 OU alumna Andrea Zarczynski's writing has appeared in more than 15 publications across the country.
Variety is the spice of life for freelance journalist Andrea Zarczynski. Since the time she was a journalism student at Oakland University, her writing and editing work has appeared in more than 15 publications in major markets from Detroit to New York to California.
Active on campus and in the community, the 2004 honors graduate wrote for the student newspaper, the Oakland Post, and joined French Club, was a member of Alpha Sigma Tau sorority and launched the Organization of Polish Students at OU.
"My experience at OU exceeded my expectations and gave me the unique tools to further both my chosen career and personal life," Zarczynski said. "I believe this was due in part to the fact that I was involved in a variety of organizations and causes on campus."
After completing her education, Zarczynski devoted herself to her craft, working through permanent. freelance positions and even a stint in public relations.
"What I like best about my field is that no two workdays are the same," she said. "There is always something new to learn and teach others. Informing the public and giving them the reassurance that there are unbiased professionals looking out for them is so gratifying. I have seen real changes come about on a local level as the result of my professional writing. That is very inspiring to me."
Oakland helped to prepare her for a lasting career in numerous ways, Zarczynski said. Having to work independently and in a group setting for classes and as a part of organizations was formative, and provided the skills to work with different personalities and ideas, blending them all into a beautiful result, she continued.
"The journalism program and its professors at OU were key to my career success. I feel as if the university handpicked top professors who, because of his or her own professional success, were able to add an extra magic to their curriculum," Zarczynski said.
With major newspaper markets crumbling and the economy in shambles, journalism may not seem like a steady job market, but Zarczynski has no worries.
"You have to keep moving, not give in to the "what ifs," she said. "Hard work, timing and perseverance are essential, and having a university education is invaluable. I believe that people will always need and want to know what is going on in the world, that there will always be a place for journalists."
And she firmly believes that practice makes progress. Advising journalism students to write at every opportunity and to seek out internships, Zarczynski said it is important to volunteer and realize that everyone has to start at the bottom.
With an ever-growing list of accomplishments and experience, Zarczynski hopes to move into a publishing position to help direct the flow and service of a publication to the public. The flexibility and versatility of her skill set proves this should not be too high a hurdle.
Zarczynski credits a large portion of her success to the time she spent at Oakland. "As a student, I felt that my professors challenged me, nurtured my skills and cheered me on. I am forever grateful to have learned from each of them."
For more information on Oakland University's journalism program, visit the Web page at
www.oakland.edu/jrn
.
OU graduate Andrea Zarczynski's writing and editing work has appeared in more than 15 publications in major markets from Detroit to New York to California.

Created by Katherine Land - Deleted (land@oakland.edu) on Wednesday, July 22, 2009
Modified by Katherine Land - Deleted (land@oakland.edu) on Wednesday, July 22, 2009
Article Start Date: Wednesday, July 22, 2009