By Katie Land, news editor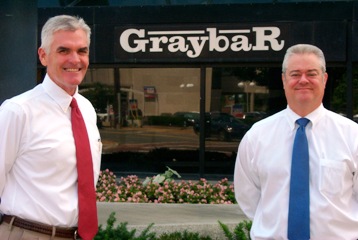 Graybar executives Tim Carpenter and Martin Beagen earned their MBAs at Oakland University.
The rise of Graybar Electric to its 2009 recognition as one of Fortune magazine's 
"World's Most Admired Companies"
has roots at Oakland University.
Graybar was recently recognized by Fortune magazine in several categories. The firm received top billing in Long-term Investment and Management Quality, and achieved a top 10 ranking in the categories of Use of Assets, People Management, Innovation, Financial Soundness and Product Quality.
Two of the top five finance and accounting executives at Graybar earned their MBAs from Oakland and consider those educational experiences to be instrumental to their current success. Graybar's Martin Beagen, vice president and controller, and Tim Carpenter, assistant treasurer, said their Oakland experiences were overwhelmingly positive.
"Obtaining an Oakland MBA had an almost immediate, positive impact on my career at Graybar. Seven months after graduating, I received a promotion to director of finance at our Chicago office," Beagen said. In 2005, he was appointed to his current position as vice president and controller after serving as assistant treasurer for five years.
Beagen's undergraduate Bachelor of Arts in Economics degree was earned at the University of Michigan in 1979. However, he said he soon found after graduation that he lacked the technical, micro-level business skills necessary to excel at the highest levels of corporate finance.
"My studies at Oakland filled two holes in my work and educational background. The first was the absence of a practical, as compared to a theoretical, business education," Beagen said. "My other deficiency was common among college students that graduated prior to 1980; I had virtually no experience with information technology. These two shortcomings were obliterated by the graduate business education I received at Oakland University."
The OU program was demanding and required discipline to complete, according to Beagen, who graduated in 1992.
"I always found the coursework at Oakland to be challenging, rigorous and current. Both my employer and I have derived significant benefits from my studies under Oakland's excellent educators." Beagen said.
Carpenter's experience was similar. After earning his undergraduate degree from the University of South Florida in 1987, he worked in a field position at Graybar. He received a promotion within six months of graduating with an MBA from Oakland in 1999.
"The OU program did a fantastic job of refreshing the basics and then taking things to the next level in regards to corporate finance," Carpenter said. "It was a great program."
Carpenter considers his courses in international finance and advanced corporate finance as the capstone classes in the entire experience, and the ones that helped to jettison him to the next level.
"The professors had a very knowledgeable combination of real world experience and thorough book learning," Carpenter said.
Working for an employee-owned company, both Carpenter and Beagen chose to distinguish themselves with an Oakland MBA that yielded near instant results. The degree was unusual to have at that time and was a major factor in their success, Carpenter said.
The Fortune 500 is an annual list compiled and published by Fortune magazine that ranks the top 500 publicly and privately-held companies by their gross revenue and business practices.
For more information on Oakland University School of Business Administration programs, including MBA concentrations, visit
www.sba.oakland.edu
.
Two of the top five finance and accounting executives at Graybar Electric, one of Fortune magazine's "World's Most Admired Companies" earned their MBAs from Oakland.

Created by Katherine Land - Deleted (land@oakland.edu) on Wednesday, July 15, 2009
Modified by Katherine Land - Deleted (land@oakland.edu) on Monday, July 20, 2009
Article Start Date: Wednesday, July 15, 2009